Old Home Page without video
To view videos HOW TO ; Membership Requiered Apply Here
* Change the Printwheel
* Change the Ink Cartridge
* Change the Tape
On approval the link will be sent to you
Contact Person: Ari Shpigel
Tel: +27214476540 Cell : +278255532082

When searching for a security solution to seal cartons…
What are your options ???
A. Security / tamper evident tape that leave residue "stop" "open" when lifted, is good but extremely costly and therefore "commercially non viable" except in very few applications.
B. The most commonly used tape for security is a PRE-PRINTED customized packaging tape, because until now there was no choice.
C. PrintWiz SecuriTape System (STS)
With the introduction of SecuriTape System and further development of PrintWiz STS, an exciting and affordable option of real security tape is available now.
----------------------------------------------------------------
What are the attributes you are looking in a security tape
to enhance carton security???
1 managing the security aspect of the system in use
2 tamper evidence and tamper proof
3 commercially viable and cost effective

4 the ease of use and versatility
5 reliability of the system and provision service
PrintWiz SecuriTape System (STS)offers all the above and more.
Your choice of a SYSTEM, TAPE and SECURITY TAPE is a critical decision in the overall effectiveness of your loss prevention program.
For your protection please evaluate and compare the security features of our PrintWiz SecuriTape System with your other alternatives.
Analyzing all features, our PrintWiz SecuriTape System meets the most demanding specifications, at an extremely competitive price. .
Overview of PrintWiz SecuriTape System (STS)
Easy to operate, very cost effective, versatile, with multitude of security levels and combination, makes it very desirable product for any one with concerns regarding carton sealing and security awareness.
Even in its simplest form, this system transforms the very basic plain (clear or tan or any other) tape to a security tape, by printing your security features yourself onto the tape, only at the time when sealing the carton, therefore, gives our SecuriTape System a huge advantage over the other "off the shelf" products.
The ability of changing of information at any given time, on a specially designed printing wheel, is another GREAT SECURITY and INFORMATION feature.
PrintWiz STS, prints directly onto the adhesive side of the tape, instantly creates three great feature,
a. the print cannot be removed
b. will leave imprints if tape is removed
c. increased carton security, tamper evident, tamper proof
Authenticating of custom printed tape, is an invaluable feature offered by PrintWiz SecuriTape System (STS).
Imagine, a multy national or an international company, now can use one corporate printed tape design, by printing and authenticating this tape with an additiona unique message, date, or code, at each location,does acheavinghigh level tape security and other identifications.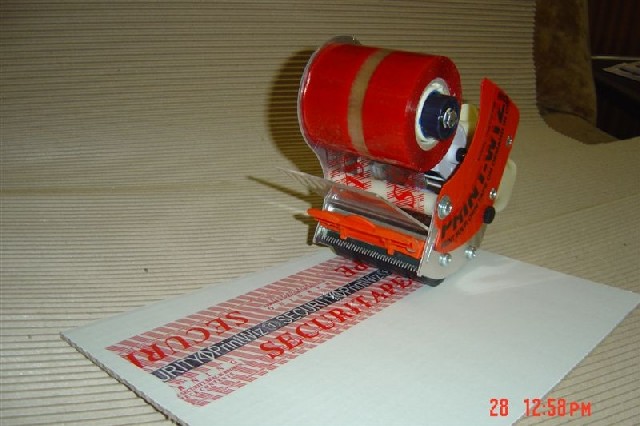 In conclusion…. the simplicity of our PrintWiz SecuriTape System (STS), together with cost effectiveness gives the user an affordable solution and greater peace of mind to an increasingly big problem ….
PrintWiz SecuriTape System (STS) is manufactured and distributed by National Tape and Seal Co